Overview
7 Nights / 8 Days

- Buddhist Circuit Train
---
Delhi Bodhgaya Rajgir & Nalanda Varanasi & Sarnath Nautanwa & Lumbini & Kushinagar Balrampur & Sravasti Taj Mahal
Highlights
BODHGAYA : It is Considered one of the most important Buddhist pilgrimage sites, it's dominated by the ancient brick Mahabodhi Temple Complex,
RAJGIR : Is an ancient city Surrounded by hills, it's known for its holy sites. Remains of the Cyclopean Wall, which encircled the city centuries ago,
NALANDA : was, a large Buddhist monastery in the ancient kingdom of Magadha and was a centre of learning from the Fifth century BC to 9th Century AD
SARNATH : Located near ancient Hindu Pilgrim town of Varanasi with Holy Ganges River, Sarnath is the places where Gautama Buddha first taught the Dharma, and where the Buddhist Sangha came into existence through the enlightenment of Kondanna.
KUSHINAGAR : It is an important Buddhist pilgrimage site, where Buddhists believe Gautama Buddha attained Parinirvana after his death It is an international Buddhist pilgrimage centre.
LUMBINI : Located in Nepal, near Indian border, Lumbini is the place where, according to Buddhist tradition,
SHRAVASTI : Considered amongst the six largest cities in India in 5th Century BC
Load more
Show less
Welcome aboard the Buddhist Circuit Special train tour, to discover the path to enlightenment in abode of Lord Buddha!
The Mahaparinirvan Express is a special tourist train that takes passengers on a spiritual tour through Bihar/Uttar Pradesh in India, where Buddhism originated more than 2,500 years ago.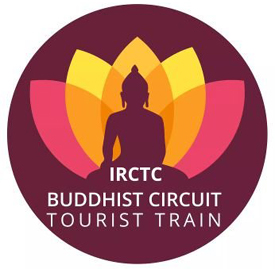 The train gets its name from the Mahaparinirvana Sutra, which contains the Buddha's final explanation of his teachings. Its sacred journey includes visits to the most important Buddhist pilgrimage sites of Lumbini (where the Buddha was born), Bodhgaya (where he became enlightened), Varanasi (where he first preached), and Kushinagar (where he passed away and achieved nirvana).
This train tour is owned & operated by IRCTC Ltd. By modifying carriages of an Air conditioned Rajdhani Express sleeper train, offering three different classes of travel (first class, two tier, and three tier). There are limited toilets with showers on the train, but & daily are taken to hotels to freshen up & for brief rest, or at times overnight stay.
There is an onboard hygienic kitchen car facility & passengers are served sumptuous hot meals. Packaged drinking water & tea/coffee Service is available free of charge As this train is targeted for pilgrimage tourist, the onboard facilities are limited & far from opulent ;& cannot be compared to other luxury train tours e.g. Palace On Wheels etc.
But personal & good care is taken of the esteemed Passengers & they are provided luggage assistance at each destination. Security guards are present on the train, An English speaking guide is part of group sightseeing tours & excursions & their costs are already included in the train tour package
Detailed Itinerary
Day 01 Saturday Afternoon: NEW DELHI Depart
Report by 1:30 p.m. at Safderjung railway station for check-in formalities of Mahaparinirvana Express Buddhist train tour. After traditional welcome, be escorted to respective Passenger Carriage & train departs by 230 p.m. Evening tea & dinner served on board. Overnight in train.
Day 02: BODHGAYA-Town of Enlightenment
Buddhist Circuit Train Tour, Train arrives early morning at Gaya Railway Station. After on-board wash and Change and breakfast, proceed with overnight clothes to visit Mahabodhi temple & Niranjana River. Later check into hotel at Bodhgaya for overnight stay. After lunch in hotel & brief rest, visit Thai Temple, Japanese temple & Buddha statue Return to Hotel in the evening for Dinner & Night stay in Bodhgaya hotel.
Day 03: RAJGIR & NALANDA - Ancient University
Buddhist Circuit Train Tour After Early morning breakfast, check out from Bodhgaya Hotel & board buses to drive 2 hours to Rajgir, to visit Bimbimsara Jail,Gridhakut Hill & Venuvan After lunch at Hotel, proceed to visit ruins of one of the oldest university in the world at Nalanda & nearby located museum Depart by 5 p.m. from Nalanda by bus to reach Gaya railway station by bus by 7.30 p.m. Dinner & overnight stay on-board.
Day 4: VARANASI & SARNATH - The First Sermon
Buddhist Circuit Train Tour Early morning train reaches Varanasi railway station, early morning tea and breakfast on-board. Disembark the train and excursion to Sarnath, to visit Dhamek stupa, Sarnath Museum, Ashokan Pillar & Mulgandha Kuti Vihar. Check in to a Hotel for Lunch, wash and change. Evening visit ancient Ghats of Holy river Ganges, to view evening lamp immersion ceremony Return to Varanasi railway station by 8 p.m. to board the train. Dinner & overnight stay on board.
Day 05: NAUTANWA & LUMBINI - Birthplace
Buddhist Circuit Train Tour After Early Morning tea & breakfast on board, Arrival at Nautanwa Railwy Station. Proceed by coach to Lumbini, Nepal. (Tourist keep their passport and Visa ready. In case Nepal visa not issued visa fees to be kept ready as along with passport size photographs.) Check-in at hotel, Lunch at Hotel. Sight-seeing of Lumbini including Maya Devi Temple & Ashokan Pillar. Dinner and Overnight Stay at Hotel.
Day 06: LUMBINI & KUSHINAHAR
Breakfast at Hotel. Check-out the Hotel and proceed to Kushinagar by coach. Arrive Kushinagar. Proceed for Lunch at the Hotel. After lunch visit Mahaparinirvana Temple and other sites. Depart to Gorakhpur by coaches. Arrival at Gorakhpur Railway Station. Depart to Balrampur by Buddhist Train. Dinner on-board & proceed to Balrampur for visit to Sravasti.
Day 07: BALRAMPUR & SRAVASTI - A Legend Begins
Buddhist Circuit Train Tour arrival at Balrampur Railway Station. Early morning tea on-board. Departure by coach to Sravasti, arrival at the Hotel for wash/change & breakfast. Morning visit Jetvana Vihar, Pakki Kuti & Sehat Mahet Thai temple. After lunch in hotel enjoy at leisure. Drive back to Balrampur Railway station to board train by 6 p.m. & depart by 6.30 p.m. Evening tea & dinner on board Overnight on train.
Day 08: Morning: TAJ MAHAL
Morning train reaches Agra railway station After on-board breakfast & wash/change, visit one of Seven Wonders of Modern world, The Taj Mahal. Return to train by 1230 Noon & train departs by 2:15 p.m. for Delhi On-board lunch & evening tea.
Day 08: Evening: DELHI Return
Check-out at Safderjung Railway station on arrival by 6:00 p.m.